The ConfigServer & Security Firewall will deliver helpful email alerts to your inbox by default with a service called LFD. Login Failure Daemon watches all user activity for things like login failures and suspicious process' running and a chunk-load more. LFD is easy to work with and once you customize it with a tweak or two, you'll be happy you did.
ignore lfd process for wp-cron.php process
Remember, that when you list files in directory, you are looking for csf.pignore
CSF is great tool that'll provide security from brute force attacks, just learn to use it... not disable and ignore!
In a nutshell, this tutorial will show you how to whitelist a specific user process, the WordPress cron, so you do not receive anymore LFD email alerts. Just log into your server using PuTTY, and change directory so you may list segments (aka, listing files in directory). You'll want to edit the csf.pignore and just paste in the process' from email alert. When you ignore / whitelist a process, you'll no longer receive an email alert from LFD service. Just remember to scroll down to the bottom and paste your process' before you exit, save and restart csf service.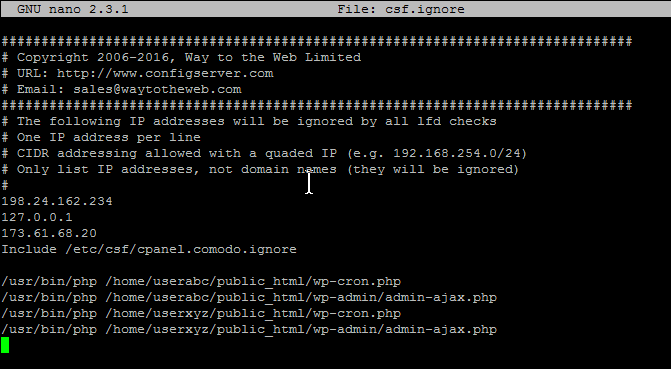 sources